How did I get the title and what does it mean? Well, this one is a whopper. From a young age, I was always vocal about anything I perceived to be an injustice. Even at five years old I remember when people would tell me to "respect your elders" I would tell them "respect has to be earned." Age was nothing but a number to me, still is. There are teenagers that I respect more than some "adults." Anyway, all of that is to say I was branded as Miss Politically Correct because I didn't care who you were, or how young or small I was; if I smelled bull, I'd call you on it.
The name stuck as I got older and decided I wanted to be a lawyer. The more classes I took on civics and constitutional law the more I uttered to my parents "you're infringing upon my rights!" I even carried a pocket constitution around with me, and extras to hand out (I was about 16 and just came back from law camp). Nobody could tell me anything. I was on the fast track to law school I had the constitution MEMORIZED. I still know the preamble by heart. But one day, all of a sudden, I was no longer Miss Politically Correct, in the inner circle, I was known as Miss Psycho Chic, coined by my father. 
Nobody knew what was wrong with me; I started skipping school and became combative, threatening to run away. It got to the point where my dad had to body slam me one night to control me from doing whatever crazy thing I was trying to do. We didn't make eye contact for a week after that; then we all just moved on. We laughed about it even. It was funny to picture me at 5'3" 105lbs trying to take down my dad who's twice my weight and has almost a foot on me. (and yes I was 100% the aggressor, and no my dad didn't hit me. He did subdue me though... WWE style... Lol, jk) But nobody in my family asks questions directly. They did take me to a therapist; she diagnosed me as healthy and cunning. I didn't like her.
Nobody knew the real reason behind my sudden mood change, not until the #metoo movement when I finally shared my story for the first time. My dad felt terrible; he had been walking around calling me psycho chic for years after I had been assaulted, but he didn't know. So, now I wear it as my badge. So, now when people tell me I'm crazy, I just tell them "Yeah, a little bit." (See Don't be a menace )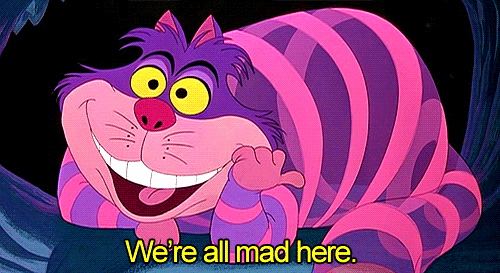 "The people who are

crazy

enough to think they can change the world are the ones who do."
Please reload